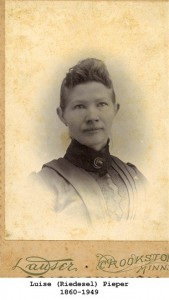 Luise Riedesel was born September 19, 1860 in Erndtebrück as the seventh of 12 children of Johann Heinrich and Maria Elisabeth (Wiekel) Riedesel.
We know that she was married in Germany to a Schneider and had a son, Henry (Heinrich). What became of the marriage or the husband is not known. It appears that she came to America in 1891 with Henry. One family story is that she met her future husband on board. In any case she was to marry Johann Friedrich Wilhelm Pieper on June 23, 1892 in Peoria, Illinois. He was from what was then called Prussian Friedland, territory that is now part of Poland.
By 1900 the family was living in Crookston, Minnesota, where Luise's brother Carl lived and Fred was a carpenter. Three children were born in Peoria after 1901. Some time later they moved again to Nordheim, Texas, where she had uncles August and Ludwig Riedesel. Luise and Fred had six children.
Both lived long lives, experiencing the world wars of the 20th century from the American side. At least she maintained family ties in Germany until the end. Luise died at Nordheim on November 30, 1949. Fred died there on May 3, 1950.
---
---
Photos
Young Luise, probably in Germany
Pieper family
Fred Pieper
Luise's grave marker
Henry Schenider grave marker