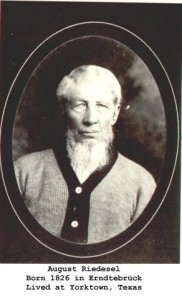 August Riedesel was born March 22, 1826 in the village of Erndtebrück in southern Wittgenstein. He was the fifth known child of Johannes and Marie Elise (König) Riedesel. Johannes was a shoemaker; leather trades ran in the family. With three older brothers, August would not be in line to inherit the family house/shop or whatever meager land they owned.
It is believed that he came to America in 1852, one of many emigrants from southern Wittgenstein who settled in Texas. August (and his younger brother, Ludwig) made their home in DeWitt County east of San Antonio. Descendants often lived in neighboring Victoria County as well.
On December 8, 1854 he was married to Amalie Haegerman (perhaps Hägerman originally). I have no information on her family though they were German. They had seven known children between 1856 and 1876, all but one of whom lived to adulthood. August was a saddle tree maker.
The Germans in Texas were not normally slaveholders nor big supporters of Secession but many still served in the ranks of the Confederate army or local militias. August was a member of Charles Eckhardt's York Town Hulan Reserve Company during the Civil War. What, if any, action they saw is not known to me.
Sadly, Amalie died at the age of 40 in 1877. His wife's death left him with at least two children under the age of five. He spent some of his last years with his youngest daughter, Louise, in California and died there on 16 October 1917.
---
Photo of August in his old age, probably after 1900
Daughter Auguste married Columbus Wagenschein
California Death Certificate for August