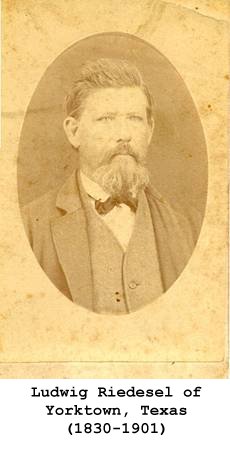 Ludwig Riedesel was born January 20, 1830 in the village of Erndtebrück in southern Wittgenstein. He was the youngest of six known children of Johannes and Marie Elise (König) Riedesel. Johannes was a shoemaker; leather trades ran in the family. With four older brothers, August would not be in line to inherit the family house/shop or whatever meager land they owned.
He came to America as a young man, ahead of his older brother August. He traveled to the port of New Orleans on the ship Julius out of Bremen. The ship arrived on October 31, 1849, and his occupation was listed as a shoemaker. Like many others from the Erndtebrück area he was aiming to settle in Texas. He settled around Yorktown in DeWitt County.
On January 2, 1852 Ludwig married Justine König who was also a native of Erndtebrück. I have not been able to trace her heritage very far but she was born March 2, 1828 to Johannes and Christine König. The couple had six children I know of.
Justine died November 29, 1880. Ludwig lived another 30 years, dying on March 12, 1901. Both are buried at the Westside Cemetery in Yorktown.
---
---
Photos
Ludwig , Justine and daughter Louise about 1860
August C. Riedesel, son of Ludwig and Justine Riedesel
Family of son August C. around 1910
Louise Riedesel, oldest daughter of Ludwig and Justine
This photo shows the family of Ludwig's son, Ludwig W. Riedesel. No date is given.
Son Ludwig/Louis (1855-1928)
Grave marker