This is based on an article I originally wrote for the Wikiepedia. In the 400+ (or is it 500+?) years that Riedesels have lived continuously in Wittgenstein, none is better known or more revered than the master builder, Mannus Riedesel (1662-1726).
Stefan Riedesel and I have now made a case that, through his mother Gerthrut Dickel,
Mannus was in fact related to the ruling counts of Sayn-Wittgenstein. Our article is currently available only in the original German.
Contents
Biography
Riedesel was a most uncommon commoner. There is evidence that he was from the upper crust of the peasantry, literate and well-traveled. He was nevertheless a subject of the absolute rulers of Wittgenstein (Graf of Sayn-Wittgenstein-Berleburg to be precise). We know that he was born June 6, 1662 at the hamlet of Melbach/Balde to Heyrich and Gerthrut (Dickel) Riedesel, the first of at least five children. We record his birth name as Johann Mannus, though know him as Mannus. Even so, he signed himself as "Hermannus" on occasion and (like most of the world) even spelled Riedesel in various fashions.
He married for the first time in 1687 to Anna Ursula Spies with whom he had at least two children. Following her death, he married again to Anna Katherine Grund in 1693, and they had three known children.
His death is recorded at the Melbach on November 4, 1726. He was buried at the church in Raumland with no tombstone and little distinction from the hundreds of other remains in the same limited area. His descendants live to this day in southern Wittgenstein as well as the United States.
Works
By the early 1700s he was in demand as a master builder–a combination of architect and construction supervisor–for both the noble families of the area and more prosperous Burgers and farmers. Little evidence remains of what he was paid for this work. It almost certainly supplemented his obligations as a tenant farmer.
At least ten structures that he built are known to still exist, and are regarded as jewels of "half-timbered" or Fachwerk construction. They used the simple building materials of the time: timber, a little glass, a little stone, and masonry made from lime, straw and manure. There was no power except muscle power and only crude measuring instruments and tools. Yet the results were carefully crafted, harmoniously balanced, and often ornamented structures.
Riedesel used a variety of figures, but favored grapes and grapevines as symbols of fertility. Both human- and gargoyle-like faces adorn various structures. They are carved in the wood, as were inscriptions. The name of Mannus Riedesel appears on some, but not all, of his surviving buildings and in a variety of spellings. Today, the inscriptions and other ornamentation are brightly painted.
Ludwigsburg
| | | | | |
| --- | --- | --- | --- | --- |
| East Wing | | South Wing | | Front Door |
Perhaps the best known of Riedesel's work is a large, two-winged house in Bad Berleburg. It was built and decorated at two different times–between 1707-1709 and again in 1724. The original owner was a member of a collateral line of the Counts of Sayn-Wittgenstein-Berleburg. It is situated along Odeborn creek, which flows through the city. Especially interesting is the carved front door.
Click here to open large and very nice photos from the German Wikipedia and more about the house (in German).
Hof Dambach
Hof Dambach came into existence as the home of a forester and huntsman in the employ of the Count of Sayn-Wittgenstein-Berleburg. The owners stood in a feudal relationship to the Count but had a few more privileges. Dambach was a hamlet in medieval times, but was abandoned by 1500. Evidence of the village can be found in the valley of Dambach creek.
In 1711, Mannus Riedesel built the main house which was occupied by Georg Wilhelm Stark, and his wife Elisabeth. Hof Dambach is decorated with various runes, figures, and other symbols of peace and fertility. There are other old out-buildings within  the property (bakery, horse stall) but they were not built by Mannus Riedesel. Inside the main house, the hallway ran the full length of the house with living and sleeping rooms to either side. Today Hof Dambach is a Pension serving tourists from Germany, the Netherlands, and elsewhere. It is now in the eleventh generation of continuous family ownership.
(Visit their web site)
Click here for a nice large picture from the WikiCommons.
Schulkappele in Sassenhausen (School/Church)
| | |
| --- | --- |
| Church in Sassenhausen | Entrance; note inscription from the apocryphal book of Sirach |
The small village of Sassenhausen is the site of a distinctive and still-functional church which Mannus Riedesel built in 1703. Click here for a larger picture. Behind the sanctuary is another room which was later built in to serve as a school. Wittgenstein was still recovering from the Thirty Years' War. The question is raised as to how a small village of only 14 dwellings and perhaps 90 people could afford to engage the best-known builder in Wittgenstein. But Mannus Riedesel had close family ties to Sassenhausen. His younger brothers had godparents from Sassenhausen, and his sister was related by marriage to another master carpenter in Sassenhausen. The Count provided the timber. With two or three journeymen and help from the villagers, the church was completed in the summer of 1703.
Lotzes Fuch'ses in Wunderthausen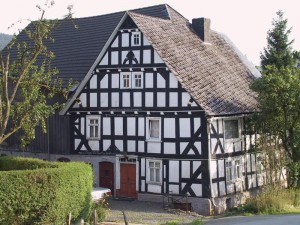 The last house known to have been built by Mannus Riedesel sits on the main road through Wunderthausen. It was erected in 1726, the same year he died. Little detail is known of its construction. Lotzes is one of three old Fachwerk houses that survived the fires of the late 1800s.
Return to top
Stoltz'sches in Laasphe
This is another grand town home built in 1705. Though not as large as the Ludwigsburg, it towers over the street. The corner posts are richly decorated in Mannus Riedesel's usual style. It was built for the wealthy brewer and distiller Johann Adam Stoltz and his wife, Anna Elisabeth. It is said to have been the first house built outside the town gates
Return to top
Hain Haus in Puderbach

Hain-Hof, a large farmhouse in Puderbach at Eschenstraße 6 built in 1712
Return to top
Other Structures
The barn built in 1702 at his home in the Melbach; some of the beams are richly decorated (not readily accessible to the public, as it is privately owned)
The house on Königstraße in Laasphe built in c. 1709
The house at Parkstraße 5 in Bad Berleburg built in 1725; it was built for a lieutenant in the Count's small guard contingent who died young; details of the widow's correspondence with the Count asking for help as well as details of the construction costs have been preserved
He  carved and decorated this colorful balcony in his church in Raumland.
Links