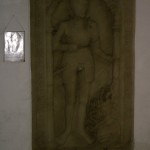 In the church of the small village of Neumark is a grave and plaque for "Hans Heinrich Riedesel." The plaque suggests a connection to Martin Luther. The identity of this man who had the status of a knight has always been murky. We find no reference to him in the rather complete genealogies of the Riedesel zu Eisenbach. Recent unpublished research now suggests that the man in question was once in the service of the Riedesel zu Eisenbach but only came to be known as "Riedesel" when in the service of the Saxon and/or Hessian courts.
Clicking on these thumbnails will open full-size images.
These photos were sent to me by Rüdiger Bier from the interior of the church in Neumark.
---
| | |
| --- | --- |
| | |
| A plaque noting that Johann Riedesel was the godparent to a child of D.M. Luther (Dr. Martin Luther it is supposed) | A plaque noting the burial of a Hans-Heinrich "Ritesel" and his wife (no dates) |