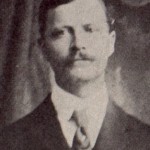 Heinrich Riedesel  was born June 14, 1865 in Wunderthausen in the house known as Försters hinter der Huthe. He was the son of Ludwig and Anna Catharina (Fuchs) Riedesel who had ten children in total. Heinrich was seventh and last surviving child of the family. Two of his older siblings–Elisabeth and Georg Ludwig/George Louis–also emigrated to America.
He and his brother George Louis arrived on the ship "Oder" out of Bremen and Southampton on May 20, 1881. He was known as Henry F. though the middle initial was arbitrary. He and his brother initially farmed near Big Rock, which is slightly south of Wheatland. Their land may have spanned Clinton and Scott Counties.
On November 1, 1893, Henry married Emma Puetsch. She was an Iowa native born May 1, 1871, reportedly in Iowa City. Her parents were emigrants. The couple had no children.
They moved into Wheatland in 1908 and were active in St. Paul's Church. Both died in the the town and are buried in St. Paul's Cemetery. Henry died at the age of 67 on December 16, 1932. Emma lived until February 24, 1955.
---