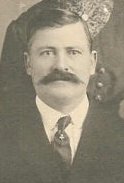 Georg Ludwig Riedesel was born May 15, 1863 in Wunderthausen in the house known as Försters hinter der Huthe. He was the son of Ludwig and Anna Catharina (Fuchs) Riedesel who had ten children in total. Georg was the sixth child and the third surviving son; he was one of three younger siblings to go to America.
He arrived in New York with his brother Henry on the ship "Oder" out of Bremen and Southampton on May 20, 1881. Wheatland was a well-established community of Wunderthausen emigrants by then, and it is no wonder that the brothers settled there as well. In the U.S. he went by George Louis.
He took English classes from a young woman named Mary Elizabeth Wilder–and married her on June 24, 1891. She was born December 2, 1869 in Waverly, Iowa. I am not sure if she was teaching in Wheatland when they met or if he had already relocated to Bremer County. The couple lived in Denver, Iowa [which the occasional researcher has confused with the larger town in Colorado] where they had four children.  Denver, like Waverly, is in Bremer County. He was a lumber merchant for many years, though they moved to Waterloo about 1928.  In 1903, he and his wife and daughter Alice visited back in Germany.
George died December 21, 1933 at Waterloo. He is buried at the Fairview Cemetery at Denver, Iowa. Mary lived another 40 (!) years, dying October 17, 1967 in Kern County, California. She was also buried at Denver,
---
---
Obituary of George Louis Riedesel
Family Portrait
Children of daughter Florence and Phillip Harvey
Florence and Phillip Harvey Family
Mary (Wilder) Riedesel in 1966