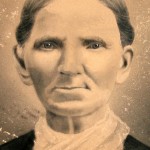 Anna Elisabeth Riedesel was born April 30, 1820 in Wunderthausen as the second child and only known daughter of Ludwig and Florentine (Althaus) Riedesel. They lived in the small house known as Haase. Five of eight children grew to adulthood but Haase was also home to an unmarried aunt and her son–and later the family of the oldest Riedesel son.
Anna married a widower by the name of Johann Franz Homrighausen of Wunderthausen on January 21, 1844. In the next two years, the entire family went to America.  In 1844, brother J. Ludwig and cousin Ludwig Dürr made the journey to Crawford County, Ohio where they had relatives. The rest of the family followed the next year, including Anna and Franz Homrighausen; I find no record that they had any children before going to America.  The name of their ship is lost but it docked in New York out of Bremen on June 7, 1845.
Anna eventually bore eleven children; only the names and dates of six are known for sure with a seventh guessed at.
Like the rest of the Riedesel entourage, they lived several years in Crawford County, presumably saving up money to buy land and equipment someday. The Homrighausens made the move to Wheatland by 1857. Franz became a substantial landowner south of Wheatland and was a respected figure in the German community and church (there being little difference).


Franz was to die at the advanced age of 92 on February 27, 1907. Anna followed on June 12, 1909. Both presumably died at their farm home near Big Rock and they are buried in St. Paul's Cemetery in Wheatland. She was a diminutive woman as this family portrait shows.
---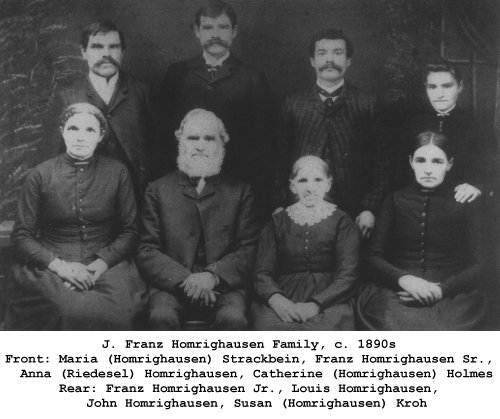 These portraits of Anna and Franz were found in an old outbuilding at Wheatland. They were not dated but I would guess they are earlier than the above family photo.
---
Obituary of Anna Elisabeth (Riedesel) Homrighausen
Detailed Ancestry Report for Anna
Ancestry of Franz Homrighausen
Descendant Report