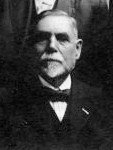 Ludwig Riedesel was born December 10, 1841 in Wunderthausen to Ludwig Heinrich (L. Henry) and Amalia (Riedesel) Riedesel in Haase house. He was the first of two children born to them in Germany before the entire extended family emigrated to America in 1845. The name of their ship is lost but it docked in New York out of Bremen on June 7, 1845. They lived for the better part of a decade in Crawford County, Ohio near Galion before settling at Wheatland, Iowa.
In America he went by J. Louis. You might think that his birth name would have been 'Johann Ludwig' after his uncle, but the Wunderthausen church book says simply 'Ludwig.' He would have received some rudimentary schooling at Wheatland as well as a proficiency in English. On October 1, 1878 he married Emma Wirth at Wheatland. By 1878 they were living at Battle Creek, Iowa where their children were born. Four daughters grew to adulthood while their only son, Jay, died young.
Louis reached the position of Vice President of the bank in Battle Creek and was a member of the city council in 1897. By 1920, they were living in Minnehaha County, South Dakota with their daughter, Bernice. Louis died on October 23, 1923 in Hennepin County, Minnesota (in or near Minneapolis). Emma died in Sioux Falls, South Dakota on May 22, 1942.
---