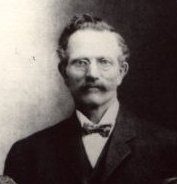 Johann Heinrich Riedesel was born October 23, 1847 in Wunderthausen to Ludwig Heinrich and Anna Elisabeth (Kroh) Riedesel of the house known as Weymers. He was the fourth of sixth children and one of three brothers who emigrated to America at different times (and to different locales).
I believe he arrived in New York on October 21, 1867 on the ship Union out of Bremen. The family story is that he worked seven years in the Pennsylvania coal mines before heading for Iowa. While this is possible, I know of no other Wunderthäuser who worked in Pennsylvania at this time. A Henry Riedesel who matches his age was living on the farm of George Riedesel of Wheatland as of the 1870 Census.
In any  case he married Charlotte Bohle in 1874 there in Iowa. She was a native of Missouri and born March 18, 1854.  They farmed in the Silver Township of Cherokee County, Iowa, until about 1902 when they moved to Cathy, North Dakota. In 1915  they went to Salem, Oregon. All of their six known children lived long lives.
Henry died at Salem on April 26, 1930. Charlotte died there on September 9, 1937. They are buried at the City View Cemetery of Salem.
---
---
Photos and Documents