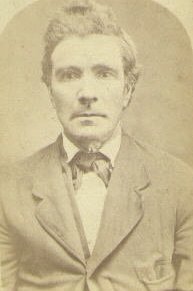 Georg Ludwig Riedesel was born January 12, 1825 in the small Wunderthausen house known then as Haase. He was the fourth child and third son of Ludwig and Florentine (Althaus) Riedesel. His father had inherited the tenancy through marriage.
When he was 20, his entire extended family left Wunderthausen for a new life in Crawford County, Ohio. The name of their ship is lost but it docked in New York out of Bremen on June 7, 1845.  His brother, J. Ludwig and cousin Ludwig Dürr had gone to Ohio in 1844 where they had an aunt and uncle–Christian and Maria Elisabeth (Althaus) Gerhard.
In late 1852, George and his oldest brother, L. Heinrich walked out to eastern Iowa to buy land. I know of no pre-existing connection to what became Wheatland so assume it was the land agent from Davenport that led the brothers to what was then a very small settlement on the Wapsipinicon River some 35 miles west of the county seat of Clinton in Clinton County. George received a land patent dated May 1, 1852 for 160 acres near Wheatland. (As was common practice, George bought land that had been issued to a veteran–Albert Walker of Tennessee–but never occupied by him). He acquired a second patent on November 1, 1852 for about 60 acres more.
According to family tradition, the brothers struck a better deal than expected so had money left to take a steamboat down the Mississippi and back up the Ohio river home.
George was naturalized on November 21, 1854, in Galion, Ohio.
His brothers began moving on to Iowa but George was to remain in Ohio until at least 1860. On February 16, 1860 he married his cousin, Elizabeth Gerhard, there in Ohio. She was born October 9, 1841 near Galion. Their first two children were born in Ohio. (See this paper for details on the process that brought the Riedesels and Gerhards to Ohio).
In any case George owned 200 acres of prime land just east of Wheatland by the late 1870s. His in-laws were to move to Wheatland as well, where both died and are buried. George and Elizabeth had a total of eight children between 1861 and 1883. Like other German farmers in the area, livestock production was his primary business.
George died on January 16, 1901. His much younger wife lived until October 14, 1926. They are buried at St. Paul's Cemetery in Wheatland–from which one can see his farmstead.
---
Detailed Ancestry Report
Ancestry of Elizabeth Gerhard
Descendant Report
---
Photos and Documents