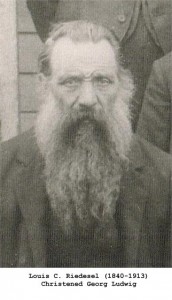 Georg Ludwig Riedesel was born January 7, 1840 in Wunderthausen. He was the fifth of eleven children of Gabriel and Anna Elisabeth (Müsse) Riedesel of the house known as Bergmanns or Gabels. Six of the children eventually went to America (of the eight who grew to adulthood). I don't have any information about the size or holdings associated with Bergmanns, but suspect that they were meager.
According to family tradition, Ludwig served in the (Prussian) army before emigrating. Such service was mandatory and it was when he was in his 20s that Bismarck's wars began, leading to the unification of the German states (exclusive of Austria) in 1871 under the rule of the King of Prussia. He probably participated in the Danish War of 1863-64 and/or the Austro-Prussian War of 1866.
Before, after or during his military service, Ludwig married Wilhelmine Elisabeth Peter of neighboring Diedenshausen (Wagners house) on February 25, 1866. She was known as Katherine and was born March 6, 1842. They had had a child, Friedrich, together in 1861.
The year following their marriage found the little family on the ship Humboldt headed for New York out of Bremen. They landed on May 27, 1867. They probably went straight to Wheatland where his older brother, Henry, had lived for a dozen years or so as well as their sister Wilhelmine (wife of J. Georg Schneider). In America he became known as Louis C., with the "C." understood as standing for "Charles." He was called Charley at times.
I have yet to determine when he moved to his own farm, but it lay just over the county line in the Springfield Township of Cedar County (Section 24, totaling 180 acres). He and Katherine were to have 12 more children in this country. Their birthplace is commonly listed as Big Rock, Iowa–a very small community that was nearer to the farm than Wheatland. The family was sometimes called the "Cambridge Riedesels" after a nearby small town by that name that disappeared long ago.
Katherine died June 29, 1909 and Louis followed on January 1, 1913. Both are buried in St. Pauls' Cemetery in Wheatland.
---
Detailed Ancestry Report
Ancestry of Katherine Peter
Descendant Report
---
Photos and Documents