Christian Willi was born in Wunderthausen, according to the German church records, on May 22, 1872. Other documents say May 18. "Willi" is conventionally a nickname for "Wilhelm", but the parish church records do say "Willi." He was the fourth and last child of Ludwig Heinrich and Katharina Elisabeth (Dickel) Riedesel. They lived in the old house known then as Altehäusers (later Hanjosts). His mother died when he was 13.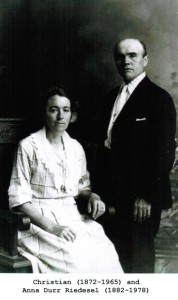 While two older brothers were to stay in Wunderthausen (and their only sister died in infancy), he was taken to America with his father in 1893. They traveled on the ship  ship "Lahn" out of Bremen, landing in New York on September 14, 1893. They settled in Rochester, New York. We know of other emigrants from Wunderthausen who went there in earlier years. Christian worked in various fields and was farming near Penfield in 1930, but retired in Rochester itself.
About 1908, Christian married Anna Duerr, a native of Sussen in Württemberg, Germany. Together they had five children. He died September 20, 1965 in Rochester and she died in April 1978.
---