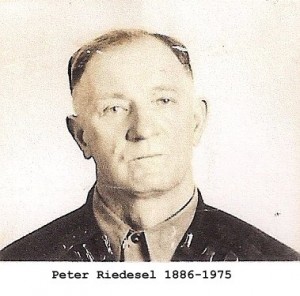 Peter Riedesel was born November 11, 1886 in what was then Diedenhofen in the German province of Lothringen. For centuries a mixture of German and French communities, the area reverted to France at the end of World War I and is now known as Lorraine. The town is now called Thionville. Peter was the youngest of five children of Peter and Anna Gertrud (Jacob) Riedesel. Peter Sr. had a large family from a first marriage
Peter came to the US on February 27, 1904 on the S.S. Vaderland out of Antwerp. His destination is given as Chicago and the home of his sister, Maria (Riedesel) Roth. A passenger list from 1913 appears to show him traveling with his brother Henry's family to America again. I can't judge if this was really him or his brother.
At the outbreak of World War I, Peter was living in Ohio. He was drafted and wounded severely enough to receive a disability pension.
In 1922, Peter married Elise Marie Hesse though I do not know where. She was a native German. They had three children in Oklahoma and were living there as of 1930, but their fourth child was born in 1927 at Westfield, New York, where his brother lived. Eventually they moved out to the Chehalis, Washington area. Peter died in Vancouver on August 12, 1975. Elise died November 21, 1995 in Chehalis.They are buried in the Claquato Cemetery in Lewis County, Washington.
---
---