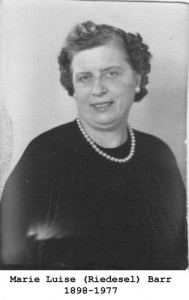 Marie Luise Riedesel was born October 19, 1898 in what was then Diedenhofen in the German province of Lothringen (now known as Thionville in French Lorraine). She was the daughter of Johannes and Margaretha (Ferry) Riedesel.
She was only a year or so old when her parents came to America for a short while (this was her father's second sojourn). However, the family returned to Europe by 1901 as her three younger siblings were born around Diedenhofen.
Then on March 14,1922 she came back to America on the ship "The Finland" out of Antwerp where she was listed as "Louise." She had met her future husband, Clifford Barr, while he was serving in the U.S. Army during the first world war.  He was of Norwegian stock from North Dakota but they lived in Chicago. Clifford died there on January 21, 1948. At least he did not have to experience the death of their son, Clifford (Jr.) in Korea in 1950. Their daughter, Harriet, married into a North Dakota family and Louise died in Fargo on June 20, 1977.
---