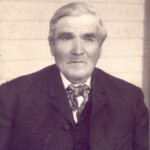 Johannes Riedesel was born March 30, 1829 in Wunderthausen as the sixth (and youngest surviving) child of Ludwig and Florentine (Althaus) Riedesel. They were tenants in the small house known at the time as Haase. It was a full house by the time Johannes was a young man with three generations and other collateral kin.
We know nothing of his younger life, but in 1845 his entire extended family left for America (older brother J. Ludwig having gone in 1844). The name of their ship is lost but it docked in New York out of Bremen on June 7, 1845. They settled in Crawford County, Ohio, near Galion where his aunt and uncle Maria (Althaus) and Christian Gerhardt had settled earlier. For a number of years, members of the family worked for others or rented land in order save enough money to buy land of their own. John–as he was known in America–did not make that move until 1857 though he acquired his land near Wheatland on May 1, 1854. John was the first of his brothers to become a naturalized citizen, doing so on October 19, 1852, in Galion.
He and the rest of the family established themselves on farms around Wheatland, Iowa, in Clinton County. John married Elisabeth Knoche of Wunderthausen on July 7, 1859 (she had arrived in 1857). As of 1860 they were living in the home of older brother J. Ludwig. It appears that he owned some land, having received a land patent in 1854 but had perhaps had not yet built a home.
By 1879 he owned a quarter section of land just east and north of Wheatland. John and Elisabeth had eight children, seven of whom grew to adulthood. He died December  9,1908 at Wheatland while Elisabeth lived until September 25, 1923. They are buried with most of their kin in St. Paul's Cemetery in Wheatland.
The death year on John's grave marker is incorrect (1909) as was Emma Wetter Hobbs' report in her book (1904). See his obituary in the Wheatland Gazette.
---
Detailed Ancestry Report
Ancestry of Elisabeth Knoche
Descendant Report
---
Photos and Documents
Obituary of John Riedesel (1908)
Elisabeth Knoche in her old age
This photo shows their family
Land Patent in Section 3 of Spring Rock Township, 1854
Land Patent in Section 4 of Spring Rock Township, 1854
Spring Rock Township in 1874 showing John's land