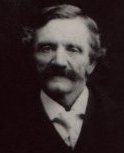 Georg Friedrich Riedesel was born August 19, 1852 in Wunderthausen. His was the youngest of six known children of Ludwig Heinrich and Anna Elisabeth (Kroh) Riedesel. The family lived in the Wunderthausen home known as Weymers. As was customary, he was known by his middle name.
He came to the U.S. on the ship Holsatia out of Hamburg. It arrived in New York on December 7, 1871. The years between his arrival and his ultimate marriage are not well-documented. By 1880 he was living with/near his brother Henry in Cherokee County, Iowa
On March 4, 1884 he married Petra Nella Vander Meer (known as Nellie), a Dutch emigrant. They lived for a while in South Dakota but eventually settled at Worthington, Minnesota where they farmed. Their ten children all lived to adulthood but the couple had only three grandchildren.
Fred died October 15, 1916 while Nellie survived until June 29, 1946. They are buried at Worthington.
---
Detailed Ancestry Report
Descendant Report
Photo of Fred and his two brothers, Henry and George