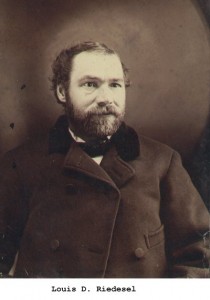 Georg Ludwig Riedesel was born September 17, 1847 in Wunderthausen, the sixth child of Georg Gabriel (aka Ludwig) Riedesel and his first wife, Elisabeth Amalia Knoche. His parents lived in the new house known as Schreiners or Großeludwigs. His older brother, Johannes/John H., had come to America in 1854 and was established as a farmer near Wheatland, Iowa.  Georg Ludwig–known as Louis D. in America–arrived in New York on May 28, 1866 on the ship Atlantic out of Bremen.
He worked at first for a relative, Philip Knoche, in Kansas City, Missouri. In 1868, he reportedly took the train and steamboat to Davenport. He then worked on the farm of Ephren Snyder. In 1870, he and his brothers George D. and Henry D. bought farmland near Wheatland.
In the meantime, a young man from Wunderthausen–Louis Wagner–had come to America, worked the California gold fields, and then settled into the Wheatland community. He died suddenly in the middle of the summer in 1879. He was unmarried with no close kin in America. The elders of the church (St. Paul's German Reformed) took matters in hand and wrote his younger sister back in Wunderthausen, suggesting that she come to America to claim her brother's inheritance. Anna Wagner had no future in the village as the now-orphaned daughter of a single mother.
Anna Wagner came to America aboard the Neckar out of Bremen, landing in New York May 29, 1880. We don't know if it was part of the "deal", but Anna married Louis D. Riedesel in August of that year. He took over the mortgage on the farm though we can assume that Louis Wagner's estate was worth something. I published an article in a German periodical about Anna's coming to America that may be downloaded here.
Louis and Anna had nine children, only the first of whom died in childhood. Louis died on October 12, 1929 and Anna on July 26, 1933. They are buried in St. Paul's Cemetery in Wheatland.
---
Obituary of Louis D Riedesel
Detailed Ancestry Report
Ancestry of Anna Wagner
Descendant Report
---
Photos
---