The name "Riedesel" appeared for the first time in the 1200s associated with a family of the knightly class in what is now the German state of Hesse. Many branches flourished through the high middle ages.  Only a few Riedesels, however, had claim to the status of nobility by even the year 1600.
The Riedesels of the world fall into three known groups:
The most prominent, though few in number, are the Riedesel zu Eisenbach, an ancient lineage of minor nobility. They received the title of "Barons" (Freiherren) in 1680. General F. A. Riedesel was a member of this lineage. No Riedesel in North America has any blood relation to this family.
The former counties (Grafschaften) of Wittgenstein in central Germany have been the home of the core population of commoner Riedesels since the 1500s and were the source of almost all Riedesels living in North America. Their genealogy since 1600 is well-documented. The 2000 U.S. Census counted 582 Riedesels in this country, virtually all of whom share these roots.
A small number of commoner Riedesels also lived in western Pomerania (Vorpommern) in what is now northeastern Germany. Their origins are less clear but the name was establised there by the 1500s as well. The alternative spelling of "Rietesel" was sometimes used. A few of this group emigrated to the Chicago area but there are very few bearers of the Rietesel variation in either Germany or North America.
Research into the nobility is a specialized field and this site makes no effort to document the history of the Riedesel zu Eisenbach or other lines of Riedesel knights who disappeared by the 1600s. Instead, our goal is to preserve and share Riedesel history with the following priorities:
The roughly 60 emigrants from Wittgenstein by the name of Riedesel who came to the United States in the 1800s, their ancestors and descendants. All were from the small villages of Wunderthausen (shown above) and Erndtebrück.
Closely related families who share much of the same history, especially in the Wheatland, Iowa area with other clusters around Kansas City and Warren County, New Jersey
The small number of emigrants from Pomerania. Ancestral records for them are sketchy.
Authorship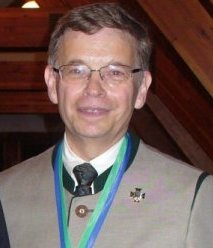 Dr. Paul Riedesel maintains this site, and is a leading authority on the American Riedesels and the emigration from Wunderthausen to America. The information in this site is drawn from a wide range of German and American sources. No guarantee of perfection is made, but the information is as correct as possible.
Questions, corrections, comments and contributions are always welcome. Contact:
Dr. Paul Riedesel
1501 Franklin Avenue SE
Minneapolis, MN 55414 (USA)